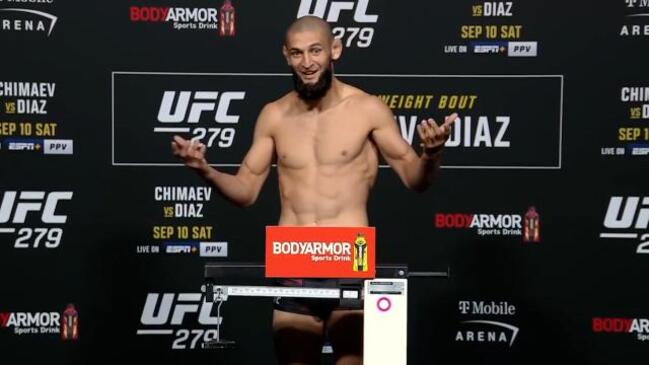 According to reports, several UFC fighters were involved in altercations backstage at UFC 279. Khamzat Chimaev also got into a physical altercation and according to Khamzat's coach, Khamzat kicked Kevin Holland in the chest.
Khamzat's coach said in a statment
"What happened was that he comes up, went inside and he was like by himself, then it came like he started with kevin Holland gave him like a boot in the chest."
According to reports the Nevada State Athletic Commission is now investigating Khamzat Chimaev for using violence outside of the cage. If it comes out and he is found guilty, he could lose a percentage of his purse from UFC 2 79 and could also be suspended from fighting as well. The N. S. A. C Chairman, Stephen J. Cloobeck, released a statement in a situation he went in and saved. The Nevada State Athletic Commission determines that licenses acted improperly.
We will initiate appropriate disciplinary action against all involved. The Nevada State Athletic Commission will strictly disciplined all licenses for incidents of physical violence between athletes outside the ring or cage up to and including purse forfeiture relocation or so expansion of any current license, denial of applications for new applicants were denying future license renewals as well as Khamzat Chimaev at some of the N. S. A. C Are also investigating Nate Diaz and his team for fighting and throwing bottles backstage at UFC 2 79. If nate or any of his team are found guilty, this could affect the future operations of Nate's new promotion REAL FIGHT. So recently, UFC Hall of Famer Pat Miletich gave his reaction to Khamzat Chimaev of missing weight. Pat said he believes the UFC told Khamzat Chimaev miss weight on purpose to increased ticket sales and drama attention to UFC 279.
Patrick Jay Miletich said in his Statement
"So the U. F. C. That is tonight It's pretty interesting when you see a guy that's wrestled his whole life. A guy from Chechnya nonetheless miss weight by 7.5 lb. That certainly wasn't by accident. I'm pretty sure that the card was not selling well on pay per view and they told him miss weight big so we can put you against Holland because this thing is not selling and we got to shake things up and cause a scene and get some attention on this card. So jimmy have misses weight by 7.5 lb. Ferguson is going against Diaz Timmy gets Holland and now all the fans are going, oh this is a better card because nobody wanted to watch Chechen monster rising star beat up a fan favorite, Nobody wanted to see that. Look, no matter what you say. I mean Diaz is a warrior but he's at the end of his career and he's not as sharp as he used to be and nobody wanted to watch that and that's why the sales were lacking. I think it's pretty obvious just having been a wrestler my whole life and never missing weight, Jimmy did not miss weight by 7.5 lb for no reason."
He was told to last night at the contender series post fight press conference, Dana White responded to the Hall of Famers comments.
Dana White said
"So I heard this thing today and again, I don't know how true it is or whatever that like Pat Miletich was saying that this thing was. We told not to make weight because we weren't selling tickets and we want the show was sold out going into that day of the way ends. I don't know if Pat really said that, but if he did, he has to be the dumbest on the planet. I mean, you know, stupid, you have to be to even think something like that, let alone say it publicly and act like you're serious.
"We are regulated by the Athletic commission and if you think that we told Khamzat Chimaev to not make weight, then Khamzat Chimaev shows up and the fans are all pised off at him and stuff and he's gonna just, I mean, and knowing if you know anything about the sport, this is a guy that was in the sport training and fighting and everything else If Pat really said that it's holy Sh*t, we might have to send him out to the clinic here, the brain clinic, get him checked out."
Tony Ferguson shows some new footage and returns to training following his loss to Nate Diaz.
Belal Muhammed gives his prediction on a potential middleweight title fight between Israel Adesanya and Khamzat Chimaev, says he believes Khamzat Chimaev could very easily become the champion at 185.
"I'm better Izzy see now that's that's interesting because I would pick Khamzat of that one. Like I said, stylistically, Khamzat could go up there and I'll wrestle Pereira and so easy and then become the champion pretty easily I think, not easily but is he's really good with distance, understanding distance, but Khamzat, he shoots right away. He's relentless with his takedown. We've seen is he defend guys like Derek Bronson who has really good takedowns. But Derek Bronson doesn't really shoot low like he does, Khamzat just shoots low, drives up high "bad matchup". "